Almost as iconic as her Fendi baguette bag, her Manolo Blahnik pumps, or her tutu skirt, Carrie Bradshaw's emblematic wavy makes more than one person fantasize. Perfectly effortless, these natural undulations, absolutely not defined, are characteristic of the character embodied by Sarah Jessica Parker, in Sex and The City and in And Just Like That. A signature style, more than ever at the top of the trend, with the emergence of "water waves" which promise to replace the mermaid waves in 2022.
Water waves: how to reproduce the undulations of Carrie Bradshaw?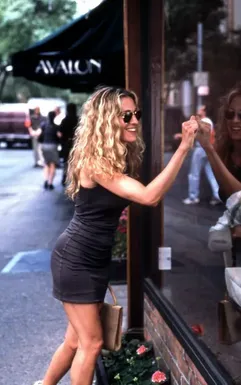 With this hairstyle, the idea is not to give the impression that you have spent several hours to achieve it. The curls must have this falsely neglected effect, almost "not combed", for the most natural result possible.
For people who already have curly hair, this hairstyle shouldn't be too difficult to reproduce, since it will be enough to work your natural curl with the help of a little water or styling mousse and air dry or dry with a diffuser-tip hairdryer.
On the other hand, if your hair is rather straight, it will take more effort to achieve curls that match Carrie's. Everything will first be a question of preparation: to give texture to your hair, start by spraying a texturizing spray based on sea salt, for example, on hair that is still damp. Dry with a hairdryer trying as much as possible to loosen the roots to give volume.
It will then be time to move on to the loops stage. Two options are available to you: you can either bring a curling iron with a fine tip, with a diameter of about 10mm, or a wave iron to create wavelets in a turn of the hand. Let the curls cool well before loosening them with your hands. You can again apply texturizing spray to keep this beachy effect.